Picture Framing Glass Types differ
Therefore you can choose between the following glass types: Standard Glass, Anti-Reflective Glass, Acrylic Glass, Antireflective Acrylic Glass or Museum Glass for our picture frames. The individual types of glass differ in their production, the material, the UV protection, the reflection of the light and the brilliance of the exhibit.
Picture Framing Glass and its properties at a glance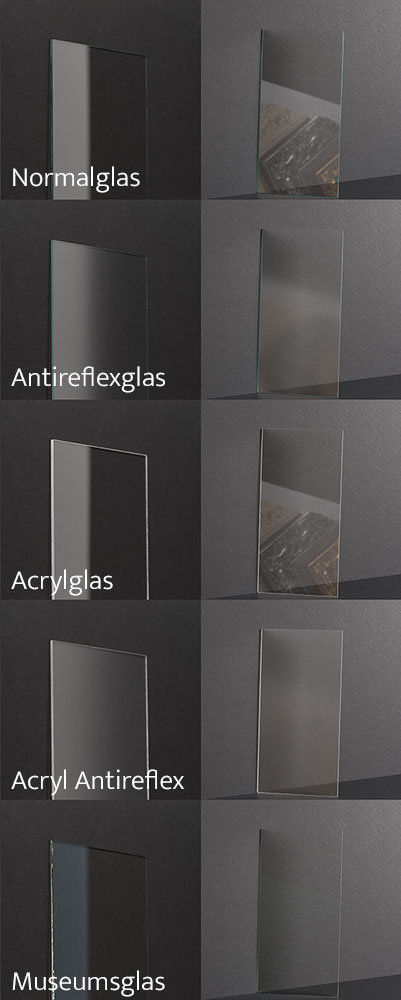 Normal glass is used in standard size frames and is the cheapest glass among all glass types. It is clear and allows a high (color) contrast of the exhibit. Standard glass has the disadvantage that it is breakable, reflective and offers only a UV protection of 30%.

Antireflective glass, also called frosted glass, is a type of glass which has a reduced reflection. It "softens" the motif by breaking the light on the glass surface. Anti-reflection glass is breakable and offers UV protection of only 30%.
Acrylic glass, Plexiglas® from Röhm Made in Germany is a high-quality, glass-like acrylic, which is often used because of its low weight and its break resistance, especially for large picture frames or when shipping picture frames. It has a UV blocker of 90-100%, however, acrylic glass is sensitive to scratching and also statically charged, so it is not suitable for charcoal or pastel crayons.
We only use acrylic glass with a fine etching, a high-quality product that can not be compared to other thin acrylic glasses, known from inexpensive standard frames.

Antireflex acrylic glass is a high quality scrylic glass, which combines the advantages of antireflective glass and acrylic glass together. So it is very transparent, light, unbreakable and offers a UV blocker of 100%. However, it is sensitive to scratching and does not provide any depth, making it less suitable for 3D picture frames and object frames.

Museum glass is a special glass with very high light transmission and a reflection of less than one percent. This ensures the highest color brilliance of all types of glass. With a UV blocker of about 70%, it protects valuable exhibits from fading and thus preserves its value.

Decision aids in choosing the type of glass
Highest color brilliance offers the museum glass due to the light permeability.
Reflection is greatly reduced in antireflective types of glass or in museum glass.
Contour / depth offer glass variants without anti-reflection properties.
UV protection reduces the fading of high-quality exhibits.
Unbreakable and light weight are acrylic glass variants.

A common rule, which glass to use, can not be established, as it always depends on the intention, purpose and sometimes on the value and relationship of the owner to his exhibit. We advise our customers by consulting them on all the above points in order to determine the optimal type of glass.

Nevertheless, one can make some recommendations, such as:
If your picture frame is in the center of your room and you do not want any annoying reflections, then no standard glass is recommended
If your exhibit is a 3D image or an object frame, then antireflective glass types appear slightly out of focus, so a clear glass such as standard glass, acrylic glass or museum glass should be used
Do you want to protect a precious collector's item, heirloom or your favorite image and frame it with value and preserve value? Then we recommend museum glass for highest color brilliance
Do you have a very large picture frame and do not want to use heavy glass? Then chose one of the two lightweight acrylic glass variants
Are you primarily concerned with UV protection and not the color brilliance or the overall aesthetic impression of your artwork? Then acrylic glass is also a cheaper alternative to museum glass due to its high UV protection.

We do not recommend acrylic glass for charcoal drawings or paintings with pastels because it is statically charged and would attract the color particles of the exhibit. However, if you tend to use acrylic glass, be sure to use a thick mat or double mat board to protect your drawing.
Similarly, we do not recommend anti-reflective glass types for 3D images or picture frames from a certain depth of insertion, as they can easily blurr the exhibit.